NEFAR held its monthly launch on February 13. The Valentine's Day Eve event was held under clear blue skies.  A record crowd (for February) lined the launch site.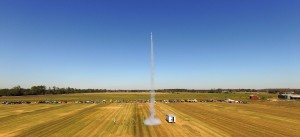 Below is a video of the launch recorded from an "Eye in the Sky" perspective
Still photos of the launch have been uploaded to the RocketReviews.com photo album at http://www.rocketreviews.com/february-2016-launch.html. Additional photos and video are in the NEFAR gallery.